Gold 1.472,75 Eur
Silber 21,46 Eur
Platin 1.016,46 Eur
Palladium 2.377,86 Eur
(49) 2935 - 3 390 375
Europaweite Lieferung
Europaweite Lieferung
Gold 1.472,75 Eur
Silber 21,46 Eur
Platin 1.016,46 Eur
Palladium 2.377,86 Eur
SILBER 15,39 EUR
PLATIN 853,48 EUR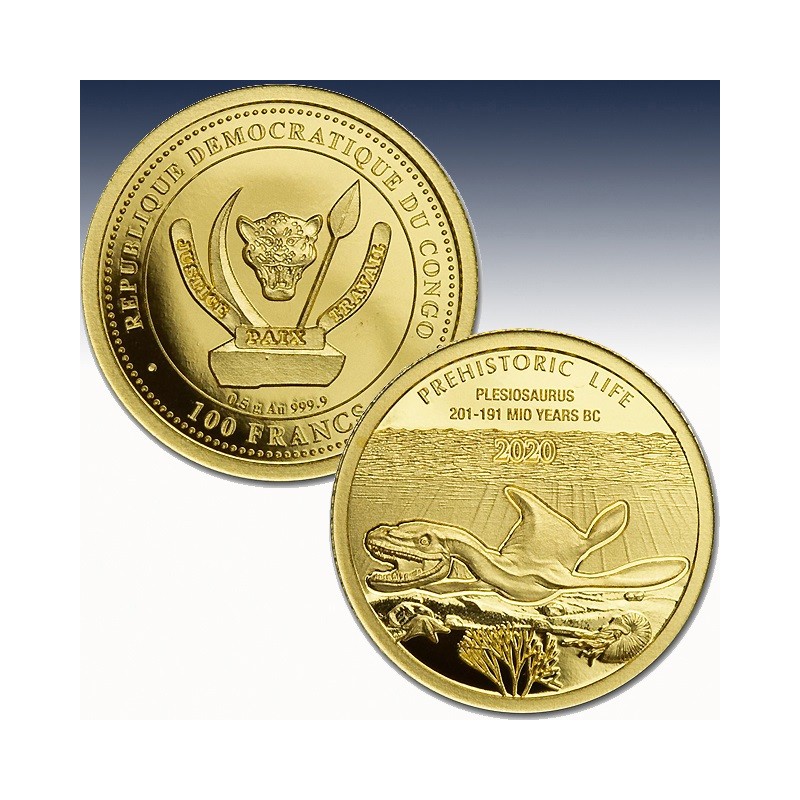  
1 x 0,5 Gramm Goldmünze 100 FRA Democratic Rep. of Congo "Plesiosaurus 2020" -BU-
| | | |
| --- | --- | --- |
| Herkunftsland: |   | Republik Congo |
| Nennwert: |   | 100 Francs |
| Prägung: |   | Stempelglanz |
| Stückelung: |   | 1 x 0,5g |
| Material: |   | Gold |
| Feinheit: |   | 999/1000 |
| Gewicht: |   | 0,5 gramm |
| Durchmesser: |   |  11,00mm |
| Auflage: |   | 2.000 Stück |
1 x 0,5 Gramm Goldmünze 100 FRA Democratic Rep. of Congo
"Plesiosaurus 2020"

This is the second coin in the Prehistoric Life Series. This North America APMEXclusive® has a mintage of only 2,000 coins worldwide.

Coin Highlights:
Contains 1/2 gram of .999 fine Gold.
North American APMEXclusive®
Comes in protective plastic.
Obverse: Depicts the Democratic Republic of Congo coat of arms and the denomination. Included is the year of issue, face value, fineness and weight.
Reverse: Features an image of a Plesiosaurus underwater. Below the Plesiosaurus are several sea plants and animals. A Plesiosaurus has a sleek body, wide flippers, and a small head at the end of a long neck. Included is the years he roamed the earth and the year of issue.
Minted at the Bavarian State Mint in Germany.


Prehistoric Life Series
This series was introduced in 2020 starting with the Tyrannosaurus Rex and will continue until 2023. There are will be three different prehistoric animals coins released each year in Gold and Silver. The second coin features the Plesiosaurs which went extinct 65 million years ago, and did not leave any living descendants. There is some people that insist that the Loch Ness Monster is actually a plesiosaur.
Technische Daten
Gewicht

0.5

Material

Gold

Jahreszahl

2020

Preisaktualisierer

Inaktiv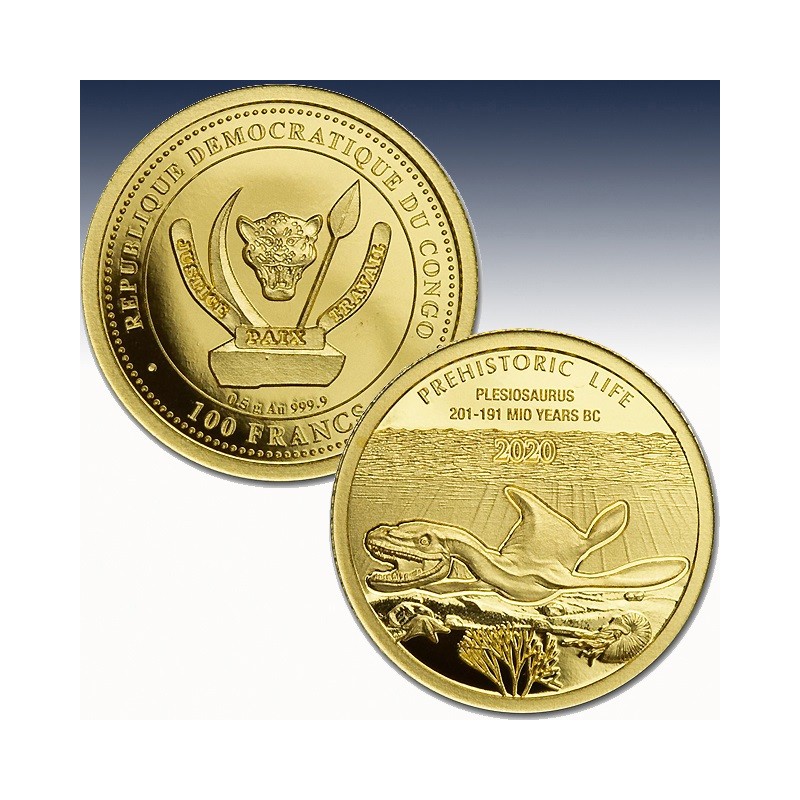 | | | |
| --- | --- | --- |
| Herkunftsland: |   | Republik Congo |
| Nennwert: |   | 100 Francs |
| Prägung: |   | Stempelglanz |
| Stückelung: |   | 1 x 0,5g |
| Material: |   | Gold |
| Feinheit: |   | 999/1000 |
| Gewicht: |   | 0,5 gramm |
| Durchmesser: |   |  11,00mm |
| Auflage: |   | 2.000 Stück |