Gold 1.748,00 Eur
Silber 20,61 Eur
Platin 907,24 Eur
Palladium 1.864,50 Eur
(49) 2935 - 3 390 375
Europaweite Lieferung
Europaweite Lieferung
Gold 1.748,00 Eur
Silber 20,61 Eur
Platin 907,24 Eur
Palladium 1.864,50 Eur
SILBER 15,39 EUR
PLATIN 853,48 EUR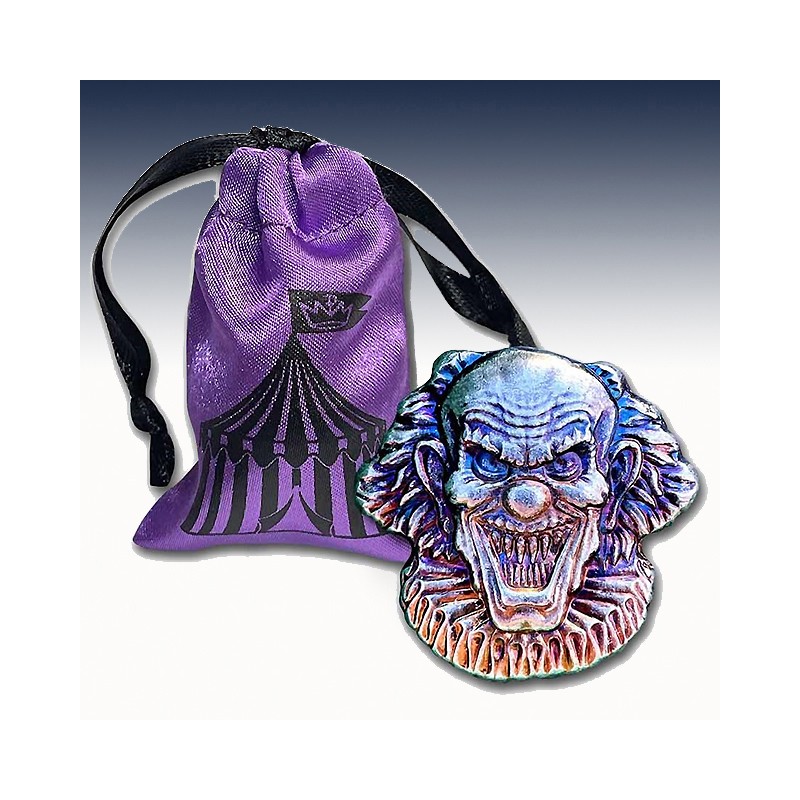  
1 x 2 oz Silverround "Hand Poured Silver - Evil Clown (w/Custom Pouch)" -AF-
| | | |
| --- | --- | --- |
| Hersteller: |   | Osborne Mint |
| Steuersatz: |   | 19% |
| Prägung: |   | Antique Finish |
| Stückelung: |   | 1 x 2 Unze |
| Material: |   | Silber |
| Feinheit: |   | 999/1000 |
| Gewicht: |   | 62,206 Gramm |
| Verpackung: |   | gekapselt |
| Durchmesser: |   |  -,- mm |
| Dicke: |   |  9,53 mm |
1 x 2 Unze (oz) Silver Round
"Hand Poured Silver - Evil Clown (w/Custom Pouch)"

These 2 oz .999 fine Silver Evil Clowns come with beautiful toning which adds a unique look and feel to this already spooky hand-poured piece.

Bar Highlights:
Contains 2 oz of .999 fine Silver.
Comes in a custom purple bag with a circus tent printed on the outside.
Hand poured products typically vary in size making each piece unique.
Obverse: Design of an evil clown with sharp teeth.
Reverse: Displays the weight and purity.
Made in the USA.

These bars may or may not come toned like the image shown. However, each bar does come with a hand-painted antique finish that gives it a unique contrast.
Technische Daten
Gewicht

62.206

Material

Silber

Preis-Addition

29.5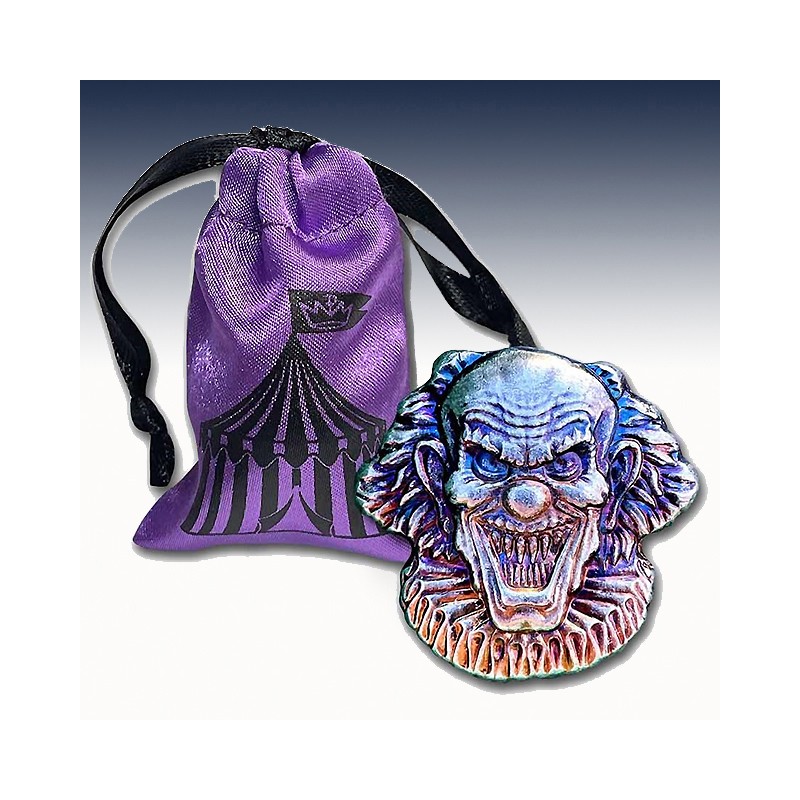 | | | |
| --- | --- | --- |
| Hersteller: |   | Osborne Mint |
| Steuersatz: |   | 19% |
| Prägung: |   | Antique Finish |
| Stückelung: |   | 1 x 2 Unze |
| Material: |   | Silber |
| Feinheit: |   | 999/1000 |
| Gewicht: |   | 62,206 Gramm |
| Verpackung: |   | gekapselt |
| Durchmesser: |   |  -,- mm |
| Dicke: |   |  9,53 mm |