(49) 2935 - 3 390 375
Europaweite Lieferung
Europaweite Lieferung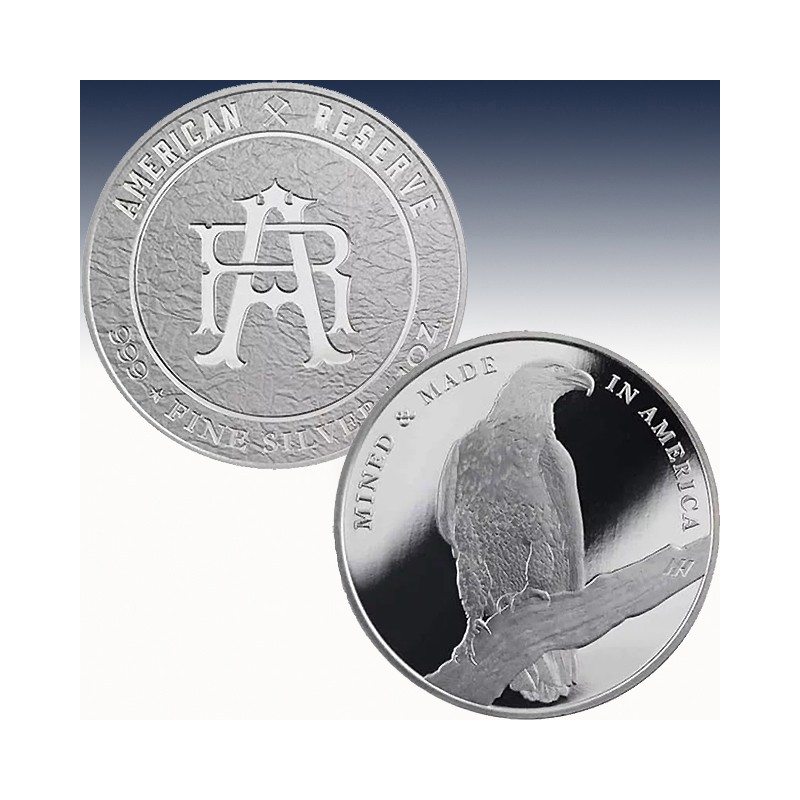  
1 x 1 Oz Silverround "American Reserve 2020" -BU-
| | | |
| --- | --- | --- |
| Herkunft: |   | USA |
| Steuersatz: |   | 19% |
| Prägung: |   | Stempelglanz |
| Stückelung: |   | 1 x 1 Unze |
| Material: |   | Silber |
| Feinheit: |   | 999/1000 |
| Gewicht: |   | 31,103 Gramm |
| Verpackung: |   | zip-Tüte |
| Durchmesser: |   | 39 mm |

Lieferbedingungen (bearbeiten im Modul "Kundenvorteile")

Rücksendebedingungen (bearbeiten im Modul "Kundenvorteile")
1 x 1 Unze (oz) Silverround "American Reserve 2020"
Silver rounds represent a distinct option for those investing in silver. Taking on the same shape and size of silver coins, silver rounds may look like bullion coins, but have no legal tender status and are often available with much lower premiums over the spot price of silver. A new collection of mint-branded silver rounds is now available to you in the American Reserve lineup.
Round Highlights:
Mined and refined in the United States of America!
Contains 1 Troy oz of .999 pure silver.
Obverse features the American Reserve logo with a rocky background field.
Reverse includes an American bald eagle on its perch with a clear background.
Each of the 1 oz American Reserve Silver Rounds in this listing represents a brand-new product lineup. The 1 oz American Reserve Silver Round is available as part of a broad new collection of American-made silver bullion that includes a 10 oz silver bar and 100 oz silver bar as well. These silver rounds are available with individual plastic flips. Multiples are available in either tubes of 20 rounds, or boxes of 100 and cases of 500 rounds.
The new American Reserve silver bullion lineup is American to its core. The silver is mined only from American sources and refined by Asahi Refining USA at its Utah facility. From there, the fine grain silver is set a mint facility in Miami, Florida, where it is minted into these stunning 1 oz silver rounds.
For the obverse of the 1 oz American Reserve Silver Round, the stylized AR letters interlock in the center of the design field. The background has a rock-like appearance as an homage to the long history of the American mining industry. Around the outer rocker, you will find inscriptions of the American Reserve name, a set of crossed pick axes, and the weight, metal content, and purity of the round.
In the reverse design element, the national symbol of the United States of America features on the 1 oz American Reserve Silver Round. The bald eagle stands majestically on its perch with its wings at rest at its side. Though the bird is shown at rest, you can tell its gaze is fixed on the horizon as it remains vigilant at all times. The background field on this side is brilliant and clear, with inscriptions of Mined & Made in America on this side.
Einzigartig in ihrer Art und bereits jetzt schon Kult in den Vereinigten Staaten.
Jede dieser wunderschönen Silverround enthält 999/1000 Feinsilber und wurde im feinsten "Brilliant uncirculated" geprägt.
Technische Daten
Gewicht

31.103

Material

Silber

Jahreszahl

2020

Preis-Addition

6.25