Gold 1.759,63 Eur
Silber 21,39 Eur
Platin 922,72 Eur
Palladium 1.494,38 Eur
(49) 2935 - 3 390 375
Europaweite Lieferung
Europaweite Lieferung
Gold 1.759,63 Eur
Silber 21,39 Eur
Platin 922,72 Eur
Palladium 1.494,38 Eur
SILBER 15,39 EUR
PLATIN 853,48 EUR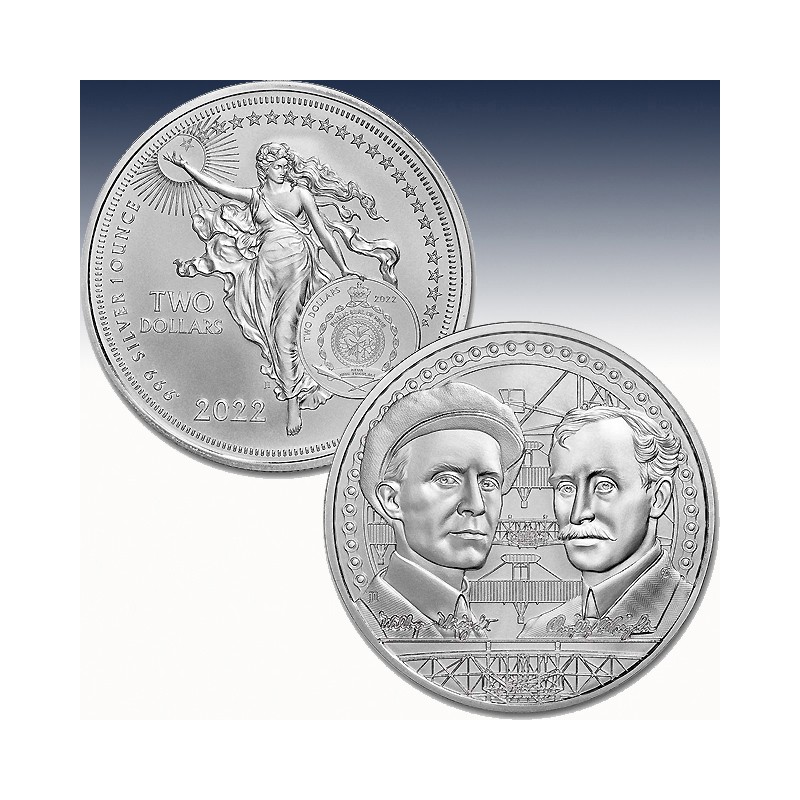  
1 x 1 oz Silbermünze 5$ Niue Islands "Silver Icons of Inspiration - Wright Brothers 2022" -BU- *
| | | |
| --- | --- | --- |
| Land: |   | Niue Island |
| Nennwert: |   | 5$ |
| Prägung: |   | Stempelglanz |
| Stückelung: |   | 1 x 1 Unze |
| Material: |   | Silber |
| Feinheit: |   | 999/1000 |
| Gewicht: |   | 31,1 Gramm |
| Durchmesser: |   |  39,00 mm |
| Auflage: |   | 10.000 Stück |
1 x 1 Unze (oz) 5$ Niue Islands
"Silver Icons of Inspiration - 5# Wright Brothers 2021"
The fifth release in this APMEXclusive® series, this iteration features a beautiful design celebrating The Wright Brothers. Artwork by famed coin designer Joel Iskowitz pays an elegant tribute to these innovative first in flight brothers.

Coin Highlights

Contains 1 oz of .999 fine Silver.
Limited mintage of 10,000 coins, delivered in an enhanced BU satin finish.
Individual coins packaged in protective capsules. Multiples of 10 arrive in heat-sealed rolls.
Obverse: Features the brothers' portraits in the foreground, with the blueprints for their airplane in the background. Orville and Wilbur's signatures are seen below their respective portraits.
Reverse: A triumphant image of a muse with an arm extended toward the sun, the seal of the nation of Niue, $2 face value and the date.
Coin designs created by famed coin designer Joel Iskowitz.


This 1 oz Silver BU coin features an elegant design, paying homage to a pair of the most famous Icons of Inspiration of all time – the Wright Brothers. Add this coin to your collection today!

2022 Niue 1 oz Silver Icons of Inspiration: Wright Brothers BU
The fifth release in this popular series showcases the famous Wright brothers: Orville and Wilbur Wright. These two are considered pioneers in American aviation because they invented, built, and flew the world's first successful motor-operated airplane in 1903. Additionally, the Wright brothers also invented aircraft controls that made fixed wing powered flight possible.
Niue ist eine isolierte Koralleninsel im Südpazifik in der Nähe von Tonga, 2.400 km nordöstlich von Neuseeland. Sie liegt südlich von Samoa und westlich der Cookinseln.

Der Nennwert beträgt  2$. Diese Münze hat einen Anteil von 999,9% Feinsilber mit einem Durchmesser von 40,00mm, wiegt 31,1 Gramm und wurde in einer wunderschönen Stempelglanz Version Produziert.

Die Vorderseite zeigt das Bildnis Queen Elizabeth II.
Technische Daten
Gewicht

31.103

Material

Silber

Jahreszahl

2022

Preis-Addition

10.5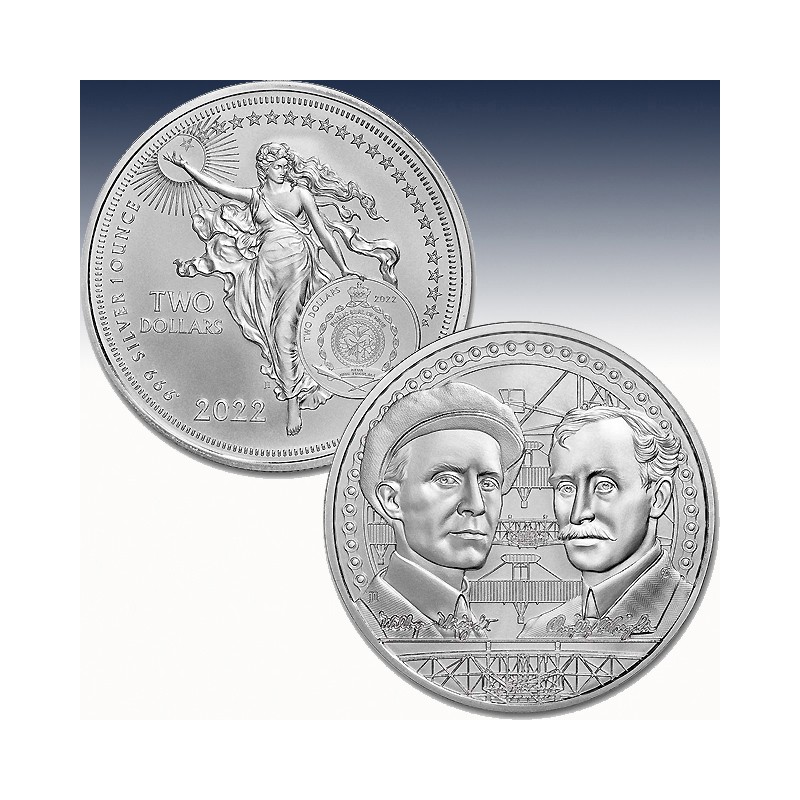 | | | |
| --- | --- | --- |
| Land: |   | Niue Island |
| Nennwert: |   | 5$ |
| Prägung: |   | Stempelglanz |
| Stückelung: |   | 1 x 1 Unze |
| Material: |   | Silber |
| Feinheit: |   | 999/1000 |
| Gewicht: |   | 31,1 Gramm |
| Durchmesser: |   |  39,00 mm |
| Auflage: |   | 10.000 Stück |