Gold 1.748,00 Eur
Silber 20,61 Eur
Platin 907,24 Eur
Palladium 1.864,50 Eur
(49) 2935 - 3 390 375
Europaweite Lieferung
Europaweite Lieferung
Gold 1.748,00 Eur
Silber 20,61 Eur
Platin 907,24 Eur
Palladium 1.864,50 Eur
SILBER 15,39 EUR
PLATIN 853,48 EUR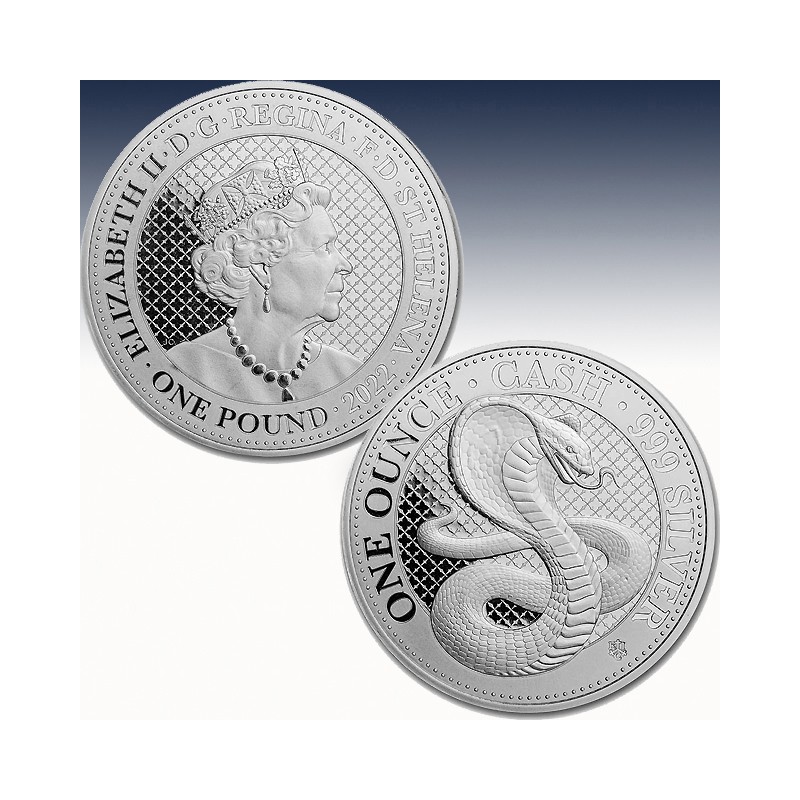  
1 x 1 oz Silber £1 St. Helena "India Wildlife - The Cobra 2022" -BU-
| | | |
| --- | --- | --- |
| Hersteller: |   | St. Helena Mint |
| Nennwert: |   | £1 |
| Prägung: |   | Stempelglanz |
| Stückelung: |   | 1 x 1 Unze |
| Material: |   | Silber |
| Feinheit: |   | 999/1000 |
| Gewicht: |   | 31,103 Gramm |
| Verpackung: |   | zip-Tüte |
| Durchmesser: |   | 38,60 mm |
| Auflage: |   | 7.500 Stück |
1 x 1 Unze (oz) Silbermünze £1 St.Helena
"India Wildlife - The Cobra 2022"
 (diff.besteuert nach §25a UStG)
The Cash Indian Wildlife series continues in 1 oz .999 fine Silver with The Cobra, cultural icon of India, and symbolic of good luck and wisdom. .
There is an extremely limited mintage of 7,500 coins.

The detailed engraving of an Elephant, with the raised relief allows the design to stand out against a striking patterned background. With a limited number of coins available, be sure to be one of the few to own this .999 fine Silver coin.

Coin Highlights:
Limited mintage of 7,500 coins worldwide.
Contains 1 oz of .999 fine Silver.
Individual coins come in protective plastic. Orders in 19 coin increments may come in Mint tubes.
Second release of the Treasures of India Wildlife bullion collection.
Obverse: Likeness of Queen Elizabeth II, date and face value, set against a patterned background.
Reverse: Features a striking Cobra, with a beautifully detailed relief, against a patterned background. Also included is the Silver weight and purity.


Treasures of India Wildlife Series
The Treasures of India Wildlife Series follows a variety of animals across India, exploring the significance and beauty of these majestic creatures, portrayed in 1 oz of .9999 fine Gold, 1 ounce of .999 fine Silver and 5 ounces of .9999 finde Silver. The Indian Cobra, known to represent good luck and wisdom, is a venomous snake found in the Indian subcontinent. Interestingly, this Indian cobra grows to about 2 meters on average, making it one of the largest venomous snakes on the Indian subcontinent.

The "CASH" denomination shown on the coin is representative of the currency units used during British rule in India. While the origin of the word "CASH" has been up to debate, one theory believes it was derived from the Sanskrit word "karsa", equaling a weight of Silver of Gold equal to 1/400 of a "tola".
Technische Daten
Gewicht

31.103

Material

Silber

Jahreszahl

2022

Preis-Addition

17.75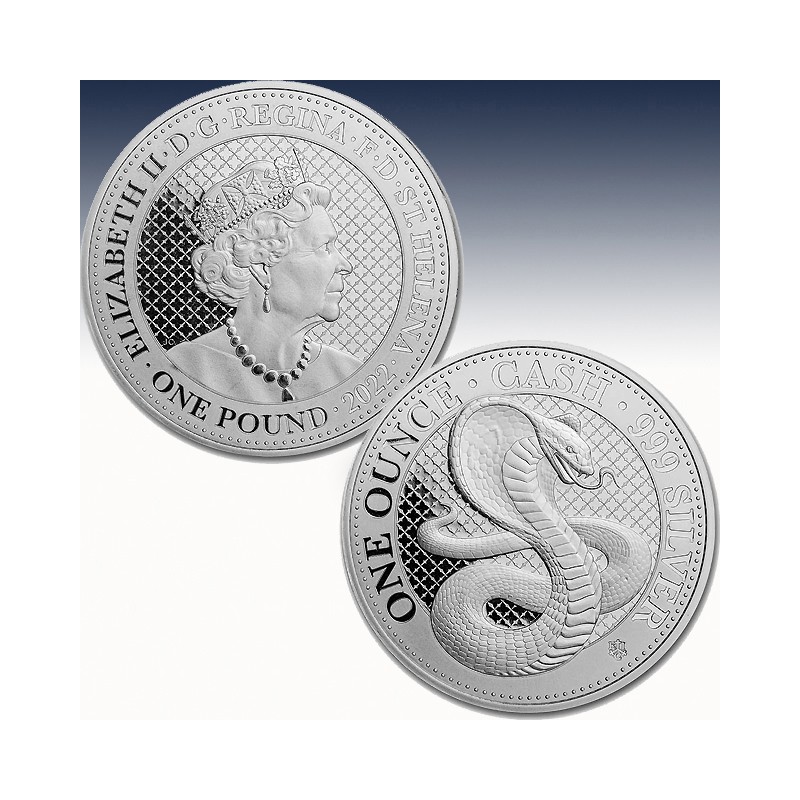 | | | |
| --- | --- | --- |
| Hersteller: |   | St. Helena Mint |
| Nennwert: |   | £1 |
| Prägung: |   | Stempelglanz |
| Stückelung: |   | 1 x 1 Unze |
| Material: |   | Silber |
| Feinheit: |   | 999/1000 |
| Gewicht: |   | 31,103 Gramm |
| Verpackung: |   | zip-Tüte |
| Durchmesser: |   | 38,60 mm |
| Auflage: |   | 7.500 Stück |