Gold 1.689,47 Eur
Silber 21,32 Eur
Platin 956,25 Eur
Palladium 1.797,50 Eur
(49) 2935 - 3 390 375
Europaweite Lieferung
Europaweite Lieferung
Gold 1.689,47 Eur
Silber 21,32 Eur
Platin 956,25 Eur
Palladium 1.797,50 Eur
SILBER 15,39 EUR
PLATIN 853,48 EUR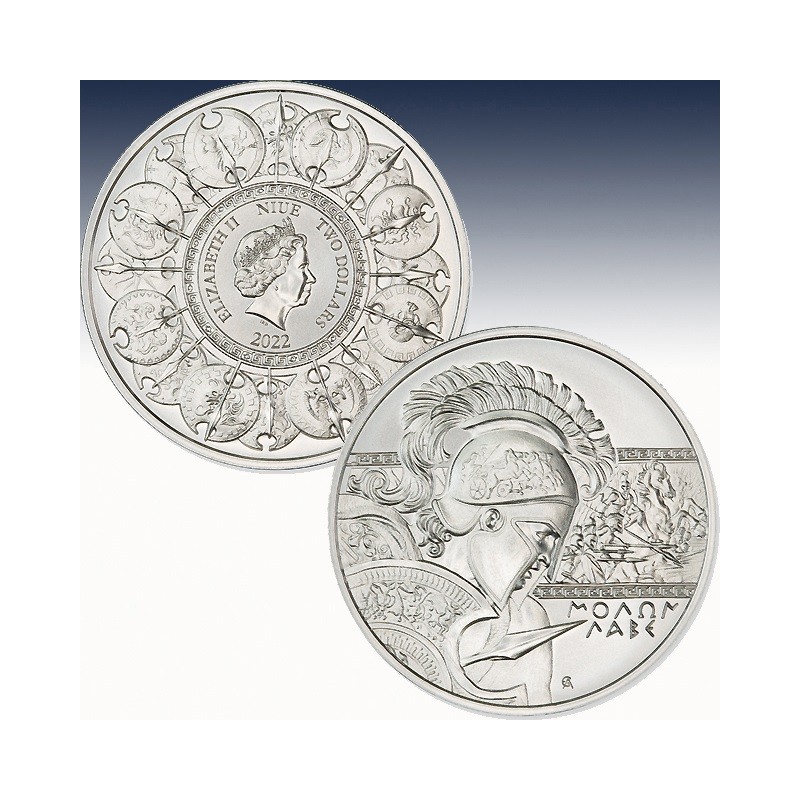  
1 x 1 oz Silbermünze 2$ Niue "MOLON LABE 2022" -BU-*
| | | |
| --- | --- | --- |
| Hersteller: |   | Intaglio Mint |
| Nennwert: |   | 2$ |
| Prägung: |   | Stempelglanz |
| Stückelung: |   | 1 x 1 Unze |
| Material: |   | Silber |
| Feinheit: |   | 999/1000 |
| Gewicht: |   | 31,103 Gramm |
| Durchmesser: |   |  39 x 3 mm |
| Auflage: |   | 5.000 Stück |
1 x 1 Unze (oz) Silbermünze 2$ Niue "1# MOLON LABE 2022"

 (diff.besteuert nach §25a UStG)
The Intaglio Mint has spent the last four years taking history buffs through the Battle of Thermopylae with silver rounds as the vehicle. On the fourth anniversary of the debut of the silver round series, Intaglio now offers the beloved Molon Labe designs on a silver bullion coin series. Today, you have the chance to buy 2022 Niue Molon Labe 1 oz Silver Coins online at Provident Metals.
Highlights:
Arrives with an individual flip, a protective tube of 20 coins, or a box of 500 silver coins!
1st available coin in the new Molon Labe Silver Series!
Limited mintage of just 5,000 silver coins!
Contains 1 Troy oz of .999 pure silver in BU condition.
The face value of $2 (NZD) is backed by the government of Niue.
On the obverse is Queen Elizabeth II.
The reverse features a Spartan warrior.
The Molon Labe Series initially offered 10 distinct designs, each one capturing a different stage of the Battle of Thermopylae between King Leonidas of Sparta, 300 of his elite warriors, and a supporting force of some 7,000 additional Greeks. The goal of this force was not to win the day or win the war, but merely to stall the advance of the Persian Army and buy time for the other Greek city-states.
Obverse
On the obverse of 2022 Niue Molon Labe Silver Coins is an effigy of Queen Elizabeth II. Her Majesty is shown in right-profile relief wearing the Girls of Great Britain and Ireland Tiara. This design was created in 1998 by Ian Rank-Broadley. The field includes inscriptions of ELIZABETH II, NIUE, TWO DOLLARS, and 2022. The outer edge of the field is encircled by Spartan shields and spears.
Reverse
The reverse side of the 2022 Molon Labe 1 oz Silver Coin features the Type 1 design from the namesake silver round series. This image features a Spartan warrior in right-profile relief with his sword and spear at the ready. The design of his helmet and shield are intricate in nature and have their own images of battle scenes. The field includes a battle motif in the background as the Spartans prepare to defend themselves. The lone inscription on this side offers a Greek script for MOLON LABE.
History
The Battle of Thermopylae is best remembered for the last stand of the 300. Leonidas, King of Sparta, sacrificed himself and many of his best warriors to face the wrath of the Persian Army while delaying their advance into Greece. Prior to the battle, he was offered a chance to live by Xerxes, if only he would voluntarily lay down his arms. Leonidas simple response was molon labe, or come and take them.
Einzigartig in ihrer Art und bereits jetzt schon Kult in den Vereinigten Staaten.
Jede dieser wunderschönen Silverround enthält 999/1000 Feinsilber und wurde im wunderschönem "Brilliant uncirculated" geprägt.
Technische Daten
Gewicht

31.103

Material

Silber

Jahreszahl

2022

Preis-Addition

30.5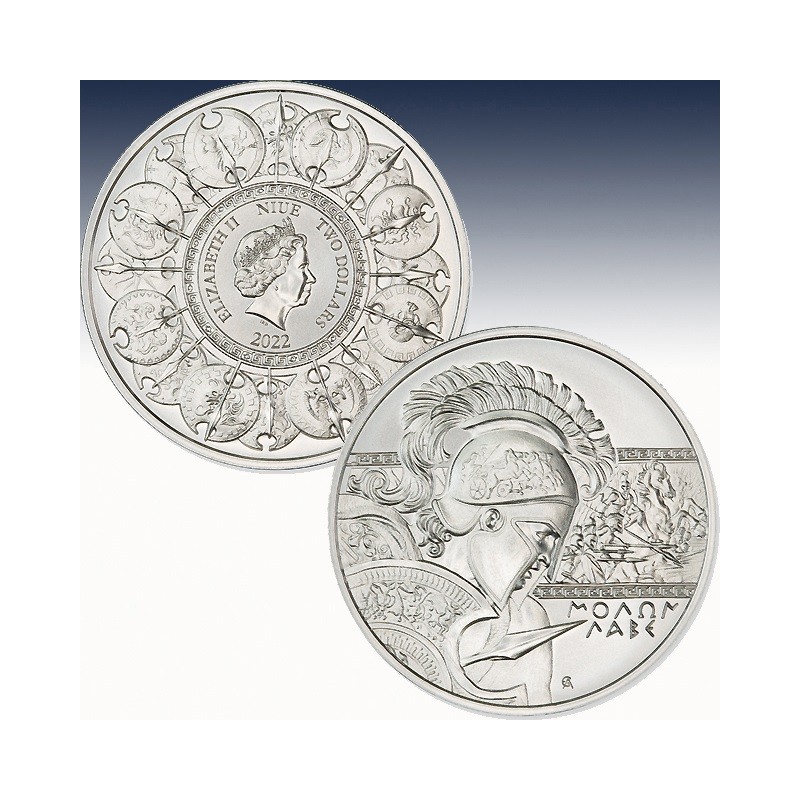 | | | |
| --- | --- | --- |
| Hersteller: |   | Intaglio Mint |
| Nennwert: |   | 2$ |
| Prägung: |   | Stempelglanz |
| Stückelung: |   | 1 x 1 Unze |
| Material: |   | Silber |
| Feinheit: |   | 999/1000 |
| Gewicht: |   | 31,103 Gramm |
| Durchmesser: |   |  39 x 3 mm |
| Auflage: |   | 5.000 Stück |