Gold 1.759,63 Eur
Silber 21,39 Eur
Platin 922,72 Eur
Palladium 1.494,38 Eur
(49) 2935 - 3 390 375
Europaweite Lieferung
Europaweite Lieferung
Gold 1.759,63 Eur
Silber 21,39 Eur
Platin 922,72 Eur
Palladium 1.494,38 Eur
SILBER 15,39 EUR
PLATIN 853,48 EUR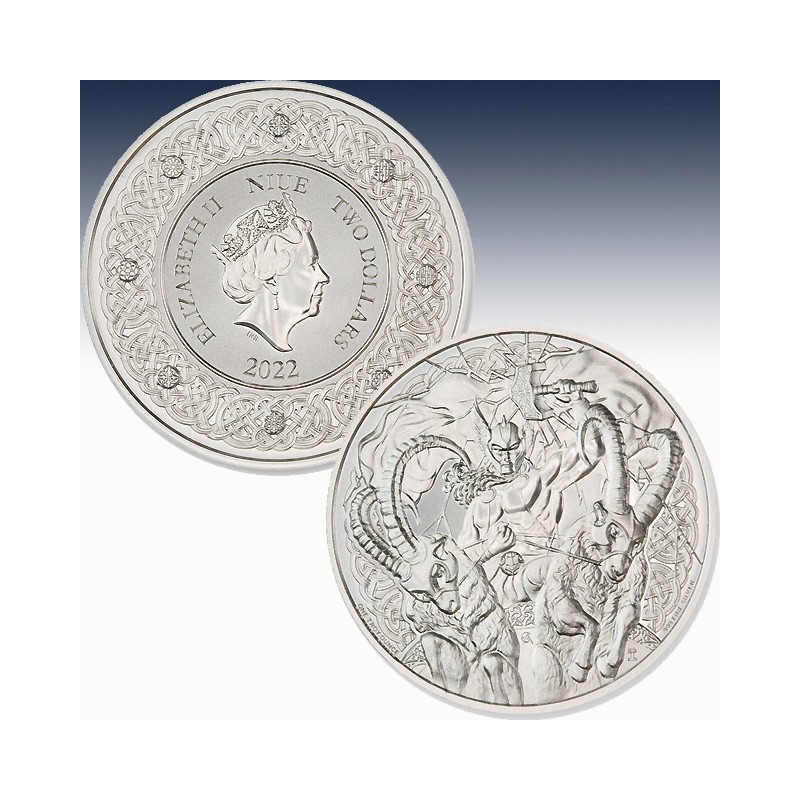  
1 x 1 oz Silbermünze 2$ Niue "NORSE GOD THOR 2022" -BU-*
| | | |
| --- | --- | --- |
| Hersteller: |   | Intaglio Mint |
| Nennwert: |   | 2$ |
| Prägung: |   | Stempelglanz |
| Stückelung: |   | 1 x 1 Unze |
| Material: |   | Silber |
| Feinheit: |   | 999/1000 |
| Gewicht: |   | 31,103 Gramm |
| Durchmesser: |   |  39 x 3 mm |
| Auflage: |   | 2.500 Stück |
1 x 1 oz Silbermünze 2$ Niue "NORSE GOD THOR 2022"
 (diff.besteuert nach §25a UStG)
Thor (Old Norse: Þórr) is the Norse god of thunder, the sky, and agriculture. He is the son of Odin, chief of the gods, Odin's consort Jord (Earth), and husband of the fertility goddess Sif, the mother of his son Modi and daughter Thrud.  Thor's hammer is used both as a devastating weapon and a divine instrument to provide blessings. The hammer was commonly worn as a pendant in the Scandinavian cultural sphere during the Viking Age. Thor and his hammer occur depicted on various objects from the archaeological record.
Contains: 1 oz. Troy Ounce .999 Fine Silver
Obverse: Effigy of Queen Elizabeth II, the words "ELIZABETH II, the country, "NIUE," the denomination,"TWO DOLLARS," and the year "2022" surrounding.  A Celtic Knot pattern around the outer circumference.
Reverse: Thor wielding his hammer, and riding his chariot drawn by two rams. Celtic Knot pattern surrounding the outer circumference
Worldwide Mintage: 2,500
Einzigartig in ihrer Art und bereits jetzt schon Kult in den Vereinigten Staaten.
Jede dieser wunderschönen Silverround enthält 999/1000 Feinsilber und wurde im wunderschönem "Brilliant uncirculated" geprägt.
Technische Daten
Gewicht

31.103

Material

Silber

Jahreszahl

2022

Preis-Addition

25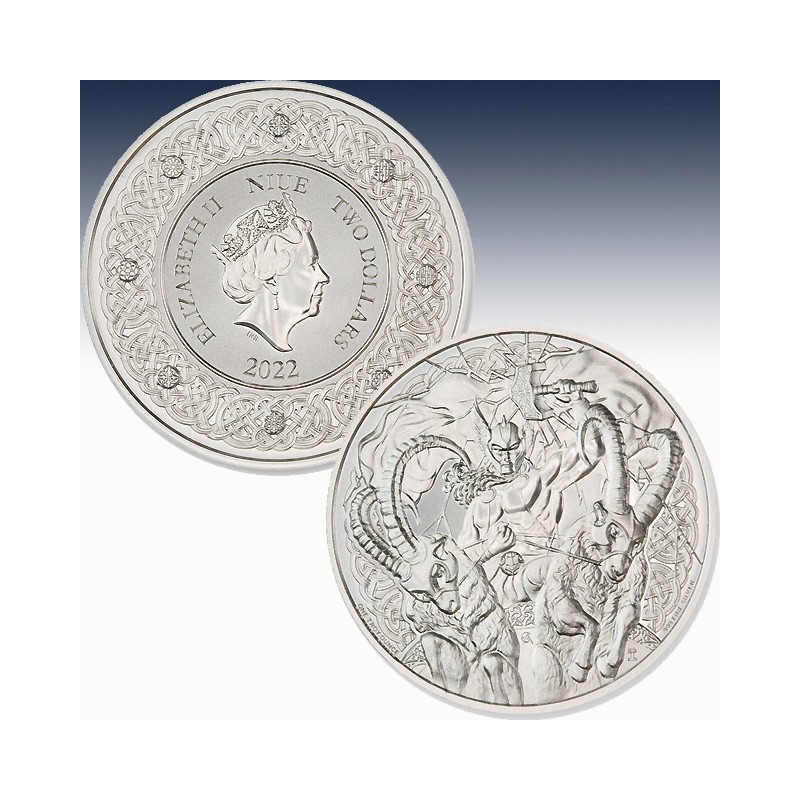 | | | |
| --- | --- | --- |
| Hersteller: |   | Intaglio Mint |
| Nennwert: |   | 2$ |
| Prägung: |   | Stempelglanz |
| Stückelung: |   | 1 x 1 Unze |
| Material: |   | Silber |
| Feinheit: |   | 999/1000 |
| Gewicht: |   | 31,103 Gramm |
| Durchmesser: |   |  39 x 3 mm |
| Auflage: |   | 2.500 Stück |